More Than 50 Years Of Experience
Energy Electrical is a locally owned and operated business in the heart of Winnellie that understands and supports the Territory since 2006. Both directors were born and gained their trade in Darwin and are a well-respected and proven company within the local area.
Energy Electrical provides a wide and varied range of services. The varied workload requires our staff to communicate well within the organisation whilst liaising with the relevant client or departments. Each job is assessed, planned and completed on time or within the relevant time frame whilst delivering the best service possible.
Friendly And Professional Service
Energy Electrical takes pride in keeping all employees safe in the work place. Weekly tool box meetings and safety procedures are undertaken by all employees. Offering services in Commercial, Industrial and Domestic areas from changing a light globe, installing and servicing split system air conditioners, data wiring/TV systems, office fit outs and commissioning solar installations to completing work on multi story developments, Energy Electrical is committed to serving the electrical needs of the Northern Territory.
The company's proven track record demonstrates the ability to understand and deliver a professional service to the highest standards. Energy Electrical employs all local staff and have trained four apprentices to achieve their electrical licenses, two of which are still with the company as tradesmen today and have recently employed two new 1st year apprentices. We also have one indigenous apprentice completing his trade with us.
Energy Electrical supports the Darwin Community by sponsoring local sporting clubs including Olympic Sporting Club and Spartans AFL Club along with contributing to numerous children's charity's.
Call the office today on 08 8984 4767 for a free onsite quote.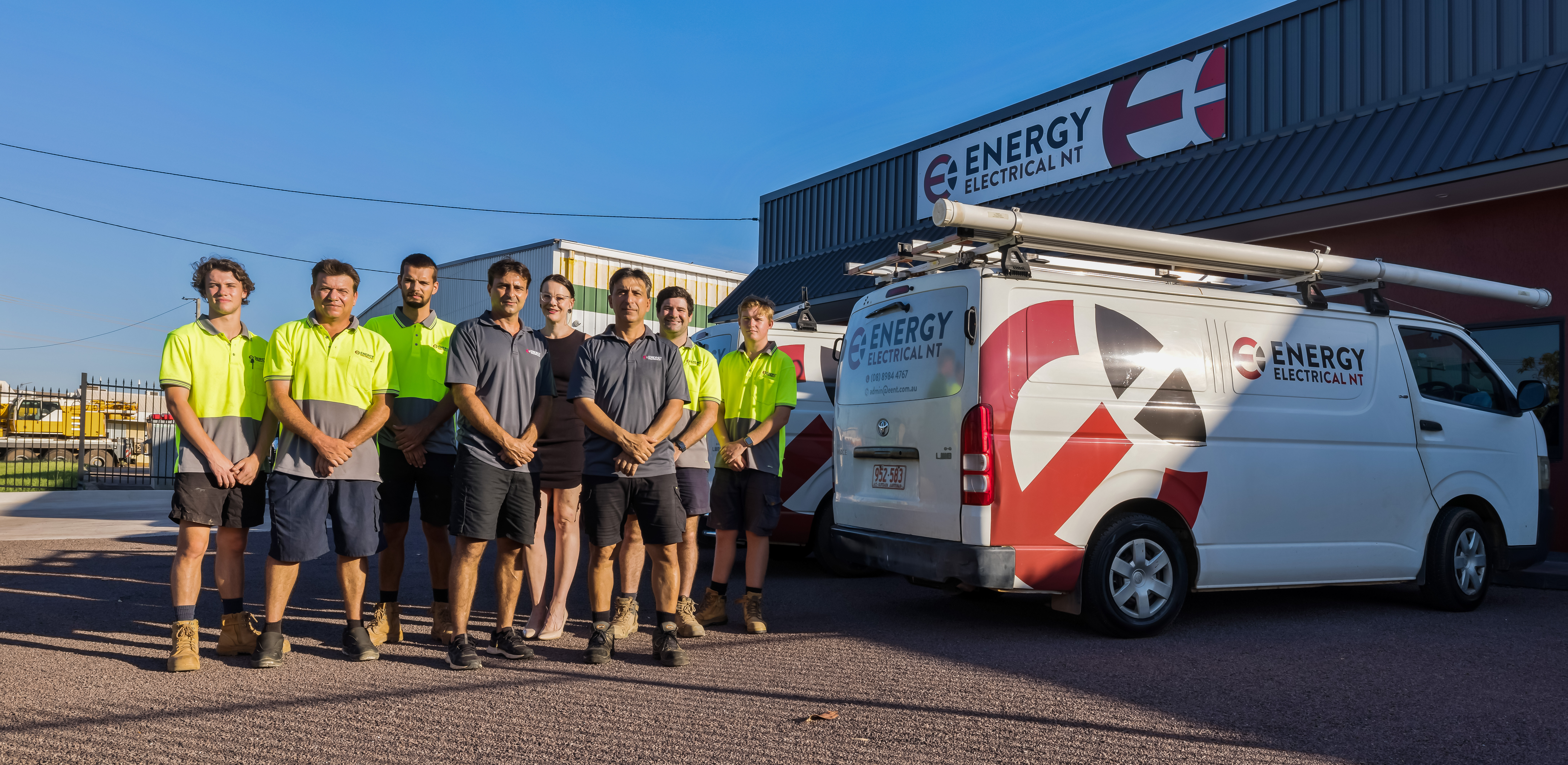 Nik has lived in Darwin his whole life where he completed his schooling and then obtained his qualification as an A-Grade Electrician in 1997. Nik is very well known and respected in the community and prides himself as a family man.
Nik and his business partner, George Mouzourakis started their Electrical and Air-Conditioning business in 2004 as Koola Air which then became Energy Electrical NT Pty Ltd in 2006 and has been trading and growing since.
Nik also holds * Certificate IV in Building & Construction (Building) obtained in May 2019 * Titab Australia, registered to perform cabling work with open endorsement in S.O.C.U *
George has also lived in Darwin his whole life where he completed his schooling and qualification as an A Grade Electrician. George and his family live locally and are a major part of the community around Darwin. George also holds an ARC Refrigerant Handling Licence.
Nik & George are involved in the Greek community throughout Darwin and pride themselves together with Energy Electrical to contributing to the GleNTi festival held in Darwin every year.
Energy Electrical is a major sponsor of the Olympic Sporting Club where Nik also plays for the team.
Energy Electrical also contribute to the Darwin Karting Association where one of our valuable team members race for the Junior division representing Darwin.
Energy Electrical also sponsor the Nightcliff Sport Club, Spartans team